I'm not being paid for this, but call it a gratitude post to a network that we exploited much [or the other way around, I'm not so sure] anyway, as it served us good for around two years now. Yes, I'm talking about Sun Cellular, it's one of these giant communication networks here in the Philippines, there are just three of them actually, but among those we find the perks here very suited to 'frequently texting and calling kids'. I didn't get them post paid service since they use it erratically, at times they can't even use up all their calls and text allocation, so why would I pay for something they didn't use?
My kids' prepaid cards last year expired because they seldom use it last summer, so I have to buy another, good thing they're just cheap as hotcakes.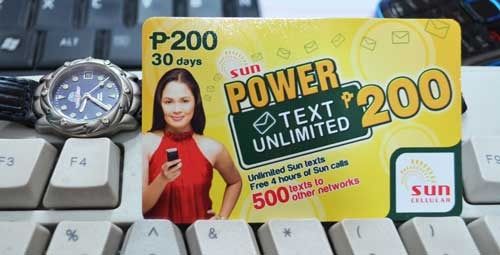 I prefer to buy this card, it's P200 worth of unlimited Sun to Sun text, it also comes with 4 hours of Sun Calls and the best stuff you have 500 texts to other networks. I figured it's the battery chargers that will give-in and not the fingers who I thought have brains of their own that can even compose a message without the master's eye on.
I first thought of not letting my kids bring a phone to school, but gracious heavens it's really a dilemma on my part not contacting them at once especially during fetching time, though we have an agreed meeting place somewhere in their school, at times, kids are really kids, they'll make you worry sick. Thanks to Sun.
Mood: