Experience ethnic culture at the mall Part 1
The T'boli Tribe
Along with the celebration of good life, the thanksgiving of the wondrous gifts of nature, the equanimity of living, the rich and diverse culture and the bounties of harvest in Davao born the festival of festivals dubbed as Kadayawan. Yes, Davao City just celebrated Kadayawan festival and everyone here are still recovering their vigor after days of street merriment to be back on working track again come Wednesday – thanks to the long weekend for this.
One of the most notable events that happened along the course of the festival was this 'cultural showcase' at Abreeza Mall. I can see one of the major promoters was the Department of Trade and Industry, it's a showcase of the small and medium entrepreneurs of the Davao region, you can see here on display local products that seldom, in fact, you cannot see at the shelves of the grocery stores, yeah, it's because sadly we prefer the multinational brands
Notable displays, display I think is the most understandable word to describe how different tribes in Davao region showed their customs to the city people, it's a tribal showcase. I remember the government's campaign 'to bring the government near to the people' to describe events where governments services are brought out of the central office to accomplish it the grassroots, same analogy I think applies on this one, bring the tribal culture near to the city people so they may understand and somehow instill on their psyches the idea to help preserve and nurture this way of life.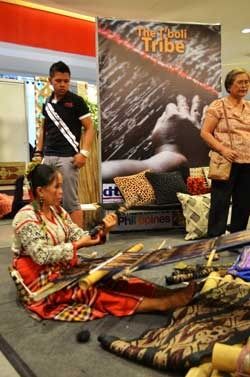 For anthropologists I know this is not a welcome development, because these people studying human culture would like it best when they're left at their own natural socio-cultural bounds, however, times are changing and as an etic observer this is think another crack of cultural change anthropologists should find ethnographic hypothesis to further explore unto.
But as I write there are previously a lot of papers available that ascertain the correlation of cultural value change and capitalism, The T'boli Tribe case however is no exception.
PERSONAL ACCOUNT to be continued next post …
T'boli Women weaving T'nalak, Tboli's sacred cloth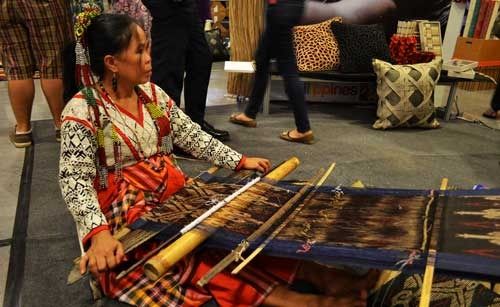 Mood: