I sent my son to "I am Nikon' workshop today, it's a whole day NIKON event held at Ateneo de Davao University. I was hoping his skills using his Nikon DSLR will further improve, I can see him very much interested on this subject that's why we bought the D5100 some months ago, though I'm the ones using it very often for photos on my blogs. But I'm just good at point and shoot thingy. I was hoping he'll learn something out of this.
So the father went with him during the morning registration, he stayed up until lunch, but whinned he's not coming back to the session hall anymore, I was raising my voice at the other side of the phone why the cut? And he said, he's the only kid among the group and the rest were grandpas and uncles. I was expecting there would be a lot who would come as it was a free event and many also subscribe to NIKON, but I didn't consider the age, lol, he felt so intimated, he also have no friends who went to attend – I settled my case 'cause I understand the feeling.
I heard Bella Padilla, yeah the actress, came later in the afternoon to pose as model for these NIKON guys, my son didn't didn't bother to come back at all, but I'm pretty sure if it were a Kpop group he could have waged war with me if I won't let him go.
Some of the freebies given during the registration;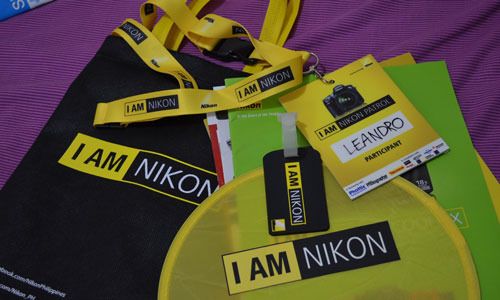 And of course the sister and the mother were there on the side for moral support. keke.

Mood: