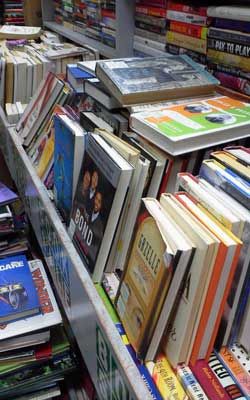 Had mama mouth again this evening with my kids, this time not about this boring game 'cut the rope' and all this feeding frenzy with this big-mouthed froggy, though my husband said there's logic in it, whatever, they're still same e-game that they hear nothing but chomps. Anyway, as I was saying had rapid fire mouth again – about them not reading books and not even a trace of their names at their library's borrower's list, I kept saying I'm willing to pay library fine, just borrow a book.
But thing with having all these pads and e-books conveniently available at home, they now learn how to negotiate and in the end, they'll really can find a way out of the dismal situation. Hearing them read aloud with fingers sliding on the pad is I think way better than not hearing them at all.
But personally, between these e-books and the paper backs, I still would go for the scent of a new book; they're sublimely redolent that fires up a soul, an aromatic encounter best experienced with tall, warm macchiato on a rainy afternoon. I have a little problem with clutter issue though, but they're tolerable than having to run out a battery in the middle of a reading orgy.
Just hoping all these kids of mine will find in their hearts to continue to love books, if not I'm not really sure if its physicality will go extinct and will be replaced by all electronic books anytime soon, if that happens I would really be extremely sad, yes, even unto my next life.
Books are friends, you can't even have issues with them, they can take you far and wide, deep and shallow, they'll bring you to some place you've never been before, even to live a life ever after.
Mood: